Two Birds
This little foodstand has fried chicken on a bun, on a salad, and in a bag. Obviously you should get it on a bun - which is the most delicious, fluffy, and buttery brioche. The piece of dark meat chicken itself is perfectly crispy and juicy. While the chicken is really good, what takes this sandwich over the top is that amazing fry sauce which is simultaneously creamy and peppery. This is the same sauce that they put on their cottage fries which are basically deep fried crunchy potato slices. Grab a puffy cottage fry as the perfect vessel to scoop extra sauce.
Located in Irvine's Trade Food Hall, a sandwich from Two Birds can perfectly be paired with a fresh pint from Center Hub situated next door. Overall this has to be one of the best fried chicken sandwiches we've had.
Rating? 10/10
What to order on the side? Cottage fries with plenty of that delicious fry sauce
Where? 2222 Michelson Dr, Irvine, CA 92612
Links? Foursquare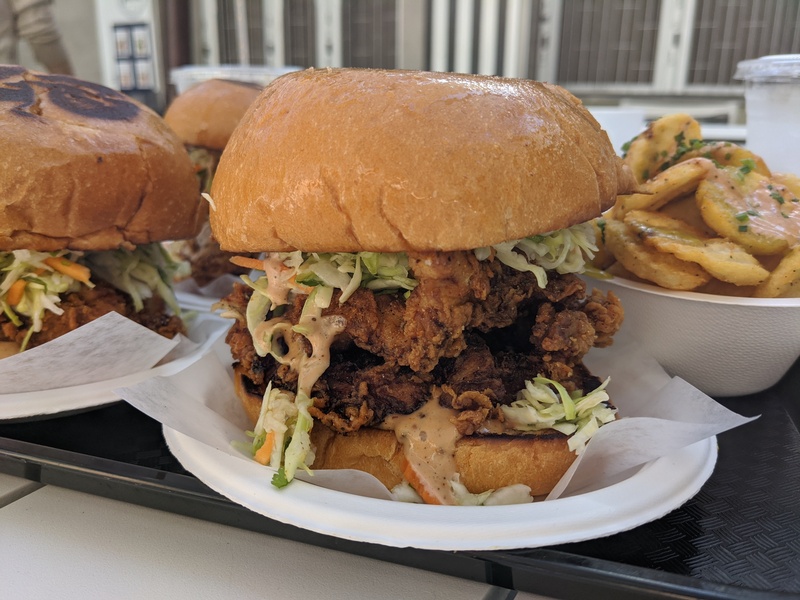 We visited this restaurant on February 02, 2020 and updated this review on February 02, 2020.